C-COM for Business Improvement Districts
Continuous Consumer Opinion Monitoring (C-COM)
Develop prosperous and sustainable Business Improvement Districts with unrivalled visitor understanding
C-COM incorporates 52 weeks of visitor data to provide accurate monthly visitor insights
Receive monthly insight reports presenting the impact of marketing initiatives
Improve your retail mix to meet the needs of your catchment population
A thorough understanding of visitors is the cornerstone of any successful Business Improvement District strategy. Comprehensive insights into the people living in your BID catchment area, the people who are spending in your BID, as well as perhaps even more importantly, those people in your catchment area who are not spending in the BID are all crucial to your planning process.
Traditional market research provides a deep analysis of a single week of visitors at one point in the year. However as visitors to a Business Improvement District are continually changing depending on elements such as the season, your promotional activities as well as changes to the facilities and services provided by your BID, it's crucial to have year round analysis and insight to ensure your objectives are being met.
Continuous Consumer Opinion Monitoring (C-COM) enables you to fully understand how your BID is used by your visitors.
C-COM gathers visitor data every week and provides statistically accurate insights every month. These insights provide you with valuable information to enable you to achieve both longer term goals such as developing a sustainable and prosperous BID as well as shorter term goals. Shorter term goals may include the promotion of the existing BID services and facilities, attracting a wider audience to the BID, driving spending within the BID, and making the BID a more attractive and safer place to visit.
You will be able to monitor how your BID visitor profiles change month by month, how spending in the BID increases as your strategies are implemented throughout the term of your BID and much more.
Visitor profiling from single week market research projects misses these monthly peaks and troughs because that single week of research is averaged across the whole year. C-COM enables you to make more informed decisions based on continuous data thus ensuring your BID strategies are effective throughout the year.
C-COM provides real visitor information whilst incorporating geodemographic segmentation. As both are essential to understanding potential and actual success, C-COM is therefore unrivalled in visitor information accuracy.
Differences between Continuous Monitoring and Single Week Visitor Monitoring
The chart below, taken from our C-COM brochure, demonstrates the differences between single and continuous market research projects.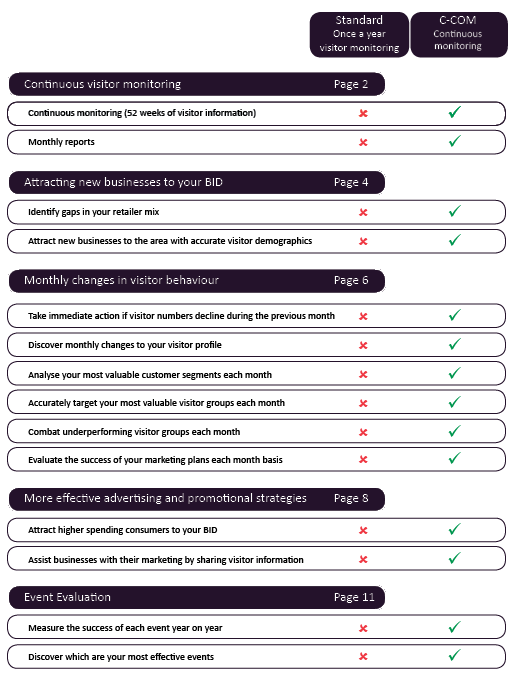 How C-COM works
We supply local interviewers to your BID for a minimum of 4 days per month. Interviews are recorded and analysed on a monthly basis. As C-COM is a modular system, extra modules may be included to monitor additional aspects of your BID.
Additional modules include:
• Qualitative listening
• Event focus
• Vox pop videos
• New tenant prospects
• Competition focus
• Event evaluation
• Advertising evaluation
• Evening economy
Complementary studies available include:
Avoider studies
– Areas surrounding your BID
– Satellite towns
Car park surveys
Vacancy rates
Footfall
Additional BID Services
CARD Group provides all of the research and evaluation services required for your BID. Our services include:
Feasibility studies
Consultations: Email, face-to-face and phone
We work directly with BIDs as well as with place management companies.
If you would like further information on how C-COM would benefit your BID, please email
info@card-group.com to request a brochure or a call back.
Please note: This web page is only accessible via the URL and is not a menu option on our website.