Continuous Customer Opinion Monitoring (C-COM) For Town Centres
Develop prosperous and sustainable town centres with 52 weeks of community stakeholder insights
A thorough understanding of stakeholders is the cornerstone of any successful planning strategy. Comprehensive insights into both resident and business needs as well as information on the success of measures taken are crucial for a council to develop effective plans.
Continuous Consumer Opinion Monitoring (C-COM)
The C-COM programme has been operating since 2012 and is used by many CARD Group clients ranging from Stirling in Scotland through to Crawley near Brighton.  This is a market research programme that monitors the performance of town and city centres in relation to customer interaction and opinions, providing results in either quarterly or monthly reports.  However rather than gathering this information across any specific week of the year, C-COM gathers the information every week of the year.  We do this because our research shows that town centre visitors change week by week, month by month, as does their purpose for visiting and their level of interaction.
C-COM reports therefore supply town centre performance data through the peaks and troughs of seasonal trading, making it the most robust research programme into town centre trading.  C-COM programmes can operate on a town centre basis or can be spread across the range of towns under the remit of the Council.
The C-COM programme also offers a range of bolt-on options to include for example:
Non-visitor and lapsed visitor research
Promotion or event evaluation
Tourist interaction and opinions
Retail and business analysis
Retail park analysis
… among many others
These regular reports detailing town centre visitor insights make it easier for councils to achieve both longer term goals with regard to developing the community plan as well as shorter term goals in terms of marketing existing facilities to the local catchment area.
Councils can now see how their town centre catchment maps and visitor profiles change month by month – identifying, rather than ignoring, visitor fluctuations.
C-COM provides real visitor information as well as catchment modelling – both are essential to understanding local potential and actual success. C-COM also shows what visitors do, as well as providing reasons for their behaviour.
Monthly catchment profiling enables you to view seasonal peaks and troughs in visitor numbers along with associated postcode areas. Static profiling, as used for the single week market research projects, misses these dramatic visitor changes because a single week of research is averaged across the whole year.
The chart below demonstrates the benefits of C-COM over standard once a year visitor monitoring.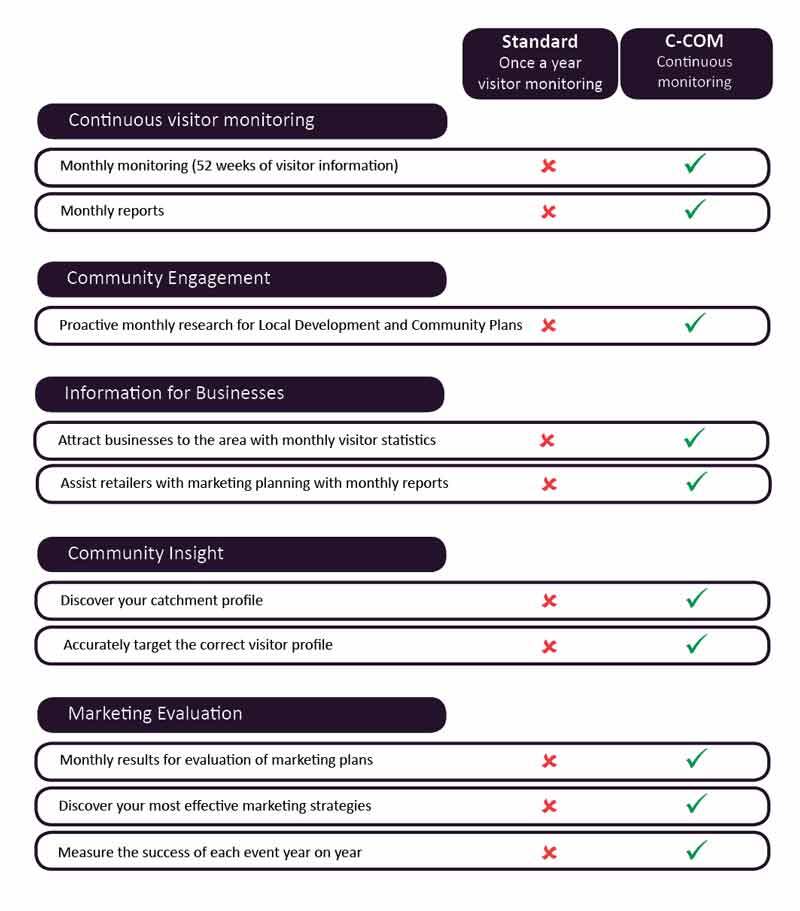 Improve consumer profiling with continuous data
Identify areas of high and low performance month by month
Develop a highly accurate visitor profile to help identify any gaps in your town centre mix
Assist with retailer sales forecasting
Increase footfall
Easily evaluate the return on investment for every marketing campaign throughout the year
Find out which of your marketing strategies are most effective at increasing retailer revenue
Monthly proof that marketing plans are achieving objectives
Real-time market research results allow you to revise and amend marketing campaigns whilst they are still active
Increase retailer sales with accurately targeted and well promoted events
CARD Group has also worked with councils on a a range of initiatives.  Read more about our public sector services here.
For further information or to request a C-COM brochure please email: albert.hamilton@card-group.com.